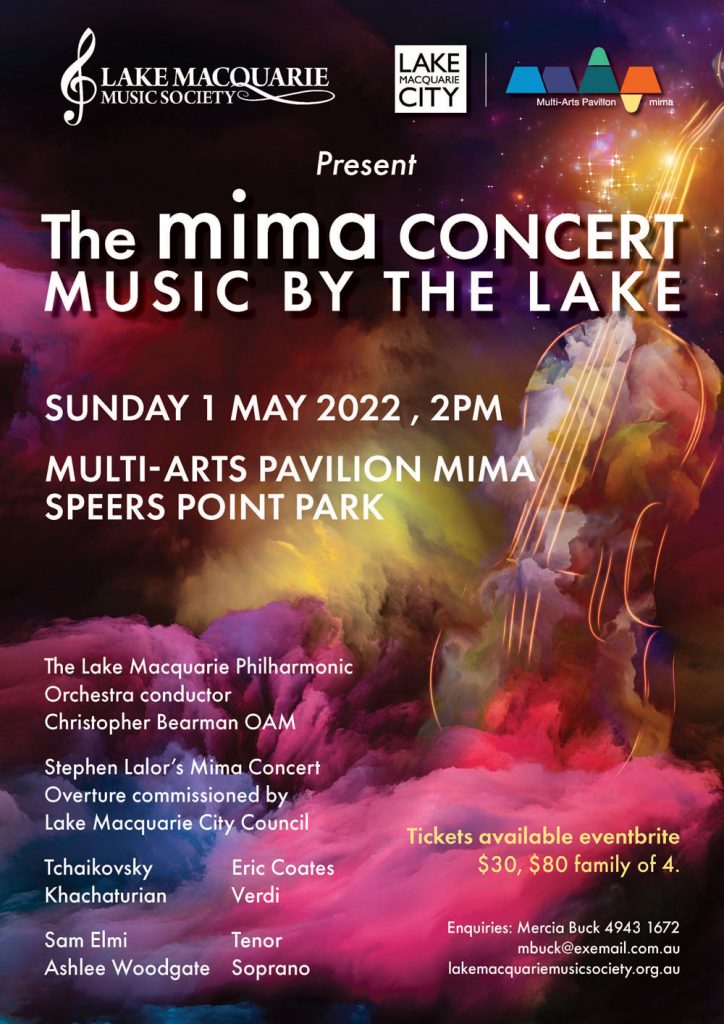 The MIMA concert with the Lake Macquarie Philharmonic Orchestra – 1st May 2pm
Next date: Sunday, 01 May 2022 | 02:00 PM
Music by the LakeWe are very excited to present our return to live music with a concert at Speers Point Park on a Sunday afternoon ( Weather forecast is fine!) using the new Multi Arts Pavilion. Conductor is our excellent Christopher Bearman OAM, with guest stars Tenor Sam Elmi & Soprano Ashlee Woodgate.The program begins with the world premiere of THE MIMA CONCERT OVERTURE by Stephen Lalor commissioned by Lake Macquarie City Council. He describes the work:
"The fanfare-like opening quickly passes like a brief storm across the Lake. The " quiet after the storm" is embodied by quietly pulsating pizzicato strings ( like gently lapping waves) punctuated by bird-like woodwind flourishes, which expand into more broadly melodic sections featuring brass writing- a nod to the coal-mining background of the area, associated historically with brass bands.
More dramatic sequences lead into a playful, energetic and vibrant section ( reflecting the modern-era Lake), heralded by muted trumpets and percussion. This pulsates to the end, before – as if recalling the memory of the storm- launching into a quick recollection of the opening."
The whole program has references to the Lake & sailing. Tchaikovsky's beloved Swan Lake Suite is followed by a lovely pastoral suite Summer Days by Eric Coates with a second movement called By the Lake. Khachaturian's Adagio from the Ballet Spartacus will be very familiar to many as the theme music for the BBC's sailing ship series The Onedin Line. The program will finish with Percy Grainger's Molly on the Shore.
Sam Elmi & Ashlee Woodgate will sing arias from Opera Hunter's production of Verdi's La Traviata to be presented on 14th & 16th October this year at MAP mima.
Tickets available at Council Events, Lake Macquarie Music Society web site, or eventbrite.
Individual tickets: $30.
Family tickets (2 adults + 2 children under 18): $80.
Lake Mac Arts members receive discounted tickets by booking through the member portal.
A COVID-safe event
We are committed to delivering quality cultural experiences in the safest way possible. By booking a place at one of our programs you agree to adhere to our COVID Safety guidelines, as directed by NSW Health. The current booking conditions require attendees and visitors to:
Check in on arrival with the Service NSW QR code system or with the support of a staff member.
Provide proof of full vaccination, via Service NSW systems (anyone over the age of 16), unless exempt for medical reasons.
Wear a mask indoors (anyone over the age of 12), unless exempt for medical reasons
Observe safe physical distancing, hand washing and sanitising practices.
NOT attend this event if you feel unwell or have been within a LGA of concern within the last 14 days prior to the program. Refunds can be provided if you have a change of circumstance.
Council reserves the right to cancel the event if deemed unsafe.
For more information
Enquiries: mbuck@exemail.com.au