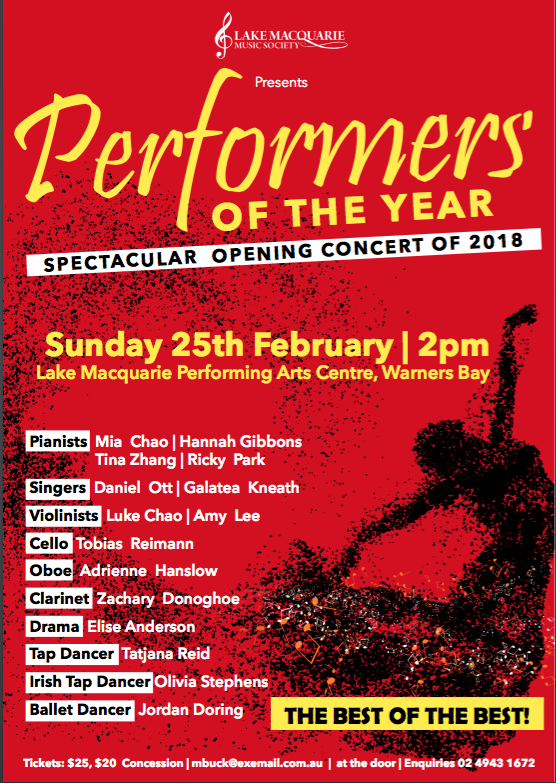 LAKE MACQUARIE MUSIC SOCIETY'S SPECTACULAR OPENING CONCERT OF 2018
When: SUNDAY 25TH FEBRUARY, 2PM.
Where: LAKE MAC PERFORMING ARTS CENTRE, WARNERS BAY.
Fifteen outstanding performers present a variety concert to remember. Piano soloists are Hannah Gibbons, Ricky Park & Tina Zhang. Tina is a 12 year old virtuoso & plays a Bach Sarabande & the third movement of the Khachaturian Sonatina.
Violinist Luke Chao will be accompanied by 12 year old sister Mia in a spectacular performance of Monti's Czardas with dancers Tatjana Reid, Olivia Stephens & Jordan Doring presenting their own choreographed interpretation in Ballet, Irish Dancing & Tap Dancing.
Baritone Daniel Ott returns from Sydney to perform accompanied by Philip Sketchley. Brilliant Clarinettist Zachary Donoghoe returns with another fine accompanist Michael Power.
Oboist Adrienne Hanslow who studied at Newcastle Conservatorium with Michael Bardon will show what a lovely solo instrument the oboe can be. Adrienne has a fine career ahead of her.
Soprano Galatea Kneath with Clarinettist Erin Sweetman & pianist Michael Power will perform the delightful Shepherd on a Rock by Schubert. The prize winning cellist Tobias Reimann plays Gavotte by Popper.
Actor Elise Anderson performs a piece as the character Sophie from Neil Simon's play The Star Spangled Girl. Elise is a student of noted drama teacher Ishbel Beadle.
Tickets to this concert are available from Mercia Buck mbuck@exemail.com.au 0249431672 & at the door. $25 & $20 concession.