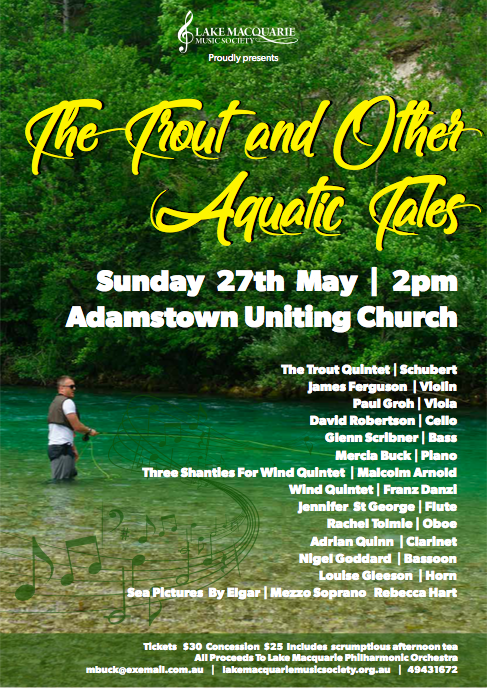 THE TROUT QUINTET , SEA PICTURES, SEA SHANTIES– What a great line-up of entertainment!
SCHUBERT, ELGAR, MALCOLM ARNOLD.
Lake Macquarie Music Society is thrilled to bring you a concert of aquatic themes on Sunday 27th May, 2pm, at Adamstown Uniting Church featuring members of the Lake Macquarie Philharmonic Orchestra. Special guest violinist James Ferguson leads the quintet with Paul Groh viola, David Robertson cello, Glenn Scribner Bass, and Mercia Buck piano. Schubert's masterpiece is celebrated as the finest for this combination, the introduction of the double bass adding new sonorities counterbalanced in the piano & the violin with higher ranges. The title refers to Schubert's famous song The Trout, which is the theme for a set of variations in the fourth movement. The whole work sparkles with Viennese dance styles, charm, & refinement.
REBECCA HART is a 21 year old French/Australian mezzo- soprano currently completing her Master of Music ( Opera Performance) at Sydney Conservatorium of Music. She has won many prizes & scholarships . Her operatic performances include Prince Orlovsky in Die Fledermaus, Ramiro in La Finta Giardiniera, and Lady Jane in Patience. Her concert performances include solos in Mozart's Requiem, Vivaldi's Gloria, and Rossini's Petite Messe Solenelle. Rebecca will sing Where Corals Lie & The Swimmer from the Sea Pictures of Edward Elgar.
THE WIND QUINTET players are Jennifer St George Flute, Rachel Tolmie Oboe, Adrian Quinn Clarinet, Nigel Gleeson Bassoon & Louise Gleeson French Horn.
Three Shanties for Wind Quintet by English composer Malcolm Arnold are:
1 The Drunken Sailor- He is in various stages of intoxication, even dancing a tango.
2 Boney Was a Warrior- gentle mood- reference to the departed Napoleon.
3 Johnny Come Down to Hilo- more tipsy sailor dancing with a gentle ending.
Sea Shanties were sailor work songs in the time of Sail & early Merchant Ships.
WIND QUINTET OPUS 56 NO 2 by German Franz Danzi opens the program. Danzi was a cellist & a contemporary of Beethoven. He wrote church music, symphonies , operas, & concertos, & his career took him to all the major music centres in Germany- Mannheim, Munich, Stuttgart & Wurttemburg. His writing for wind ensembles is among his best work
Tickets for this concert available from Mercia Buck mbuck@exemail.com.au 49431672
$30, $25 Concession includes scrumptious afternoon tea.