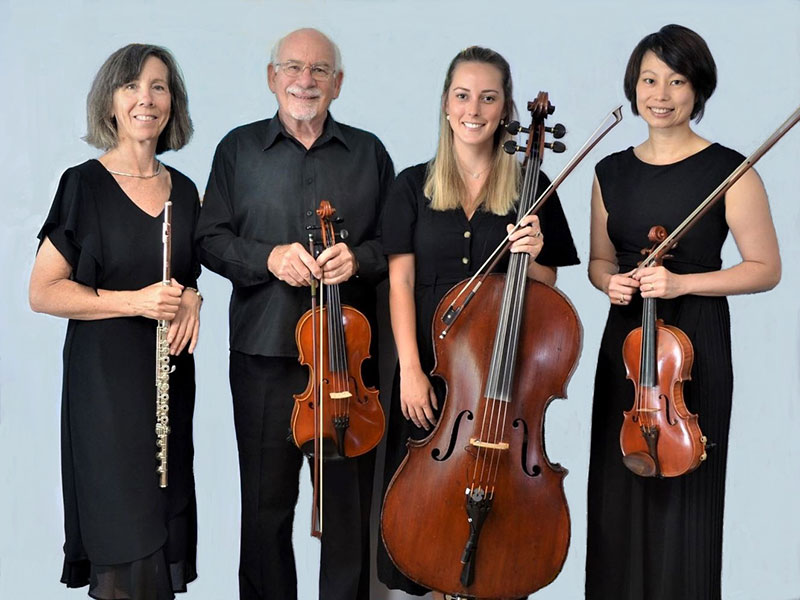 The program has a Flute Trio – The London by Haydn, A Beethoven Serenade for Flute, violin & viola, a Haydn Trio originally for baryton viola & cello now replacing the obsolete bass instrument with the violin, and the Mozart Flute Quartet. James Ferguson has arranged some very popular pieces for the ensemble, culminating in the popular Tango by Gardel familiar from the movies Schindler's List, and Scent of a Woman.
Jennifer St George is a fine flautist with a notable professional performing & academic career. She has performed with many conductors and musicians in Australia & France: Charles Mackerras, Richard Divall, Roland Peelman, Andrew Greene & Tommy Tycho are examples. Jennifer has a PhD in music education psychology. She is a graduate of The University of Melbourne, & The Conservatoire Hector Berlioz in Paris. She is the lead flute in The Lake Macquarie philharmonic Orchestra.
James Ferguson has had a distinguished career as a violinist, violist, conductor and music administrator. He was a member of the Adelaide Symphony Orchestra, and is now the Concertmaster of Newcastle's Christ Church Camerata. He has conducted The Queensland, Tasmanian & Darwin Symphony Orchestras, was Operations Manager of The Adelaide Symphony Orchestra, and Manager of Adelaide's Marion Cultural Centre. James now lives in Lake Macquarie.
Catherine Sheng-Cooper is a fine concert orchestral & chamber violinist. Originally from Taiwan, she is a graduate of Newcastle University Conservatorium with a Master of Music degree. She plays in The Pacific Palm Court Orchestra, and is the Concertmaster of the Opera Hunter Orchestra, and The Lake Macquarie Philharmonic Orchestra. Catherine & her cellist husband David have a busy teaching studio in Charlestown & perform as a duo for special events. She will present a violin recital with pianist Mercia Buck on 1st May at Adamstown Uniting Church.
Helen Griffith is a very busy cellist performing for Christ Church Camerata, Lake Macquarie Philharmonic Orchestra, Metropolitan Players, & The National Theatre Company. She studied in Sydney with Nigel Parry then attended the Newtown Performing Arts High School, and The Sydney Conservatorium of Music winning the 2008 Zonta Young Performers award. She is a passionate teacher and works as a session musician, and plays in the Indie-rock band Mild West.
Photo of the four players: (from left) Jennifer St George – Flute, James Ferguson – Viola, Helen Griffith – cello, and Catherine Sheng-Cooper – Violin.