Lake Macquarie Music Society Presents
Violinist Catherine Sheng – Cooper & Pianist Mercia Buck in Recital – 3pm Saturday 1st May 2021 at Adamstown Uniting Church.
Entry: $25 / $20 Concession | Children Free | Enquiries: Mercia Buck mbuck@exemail.com.au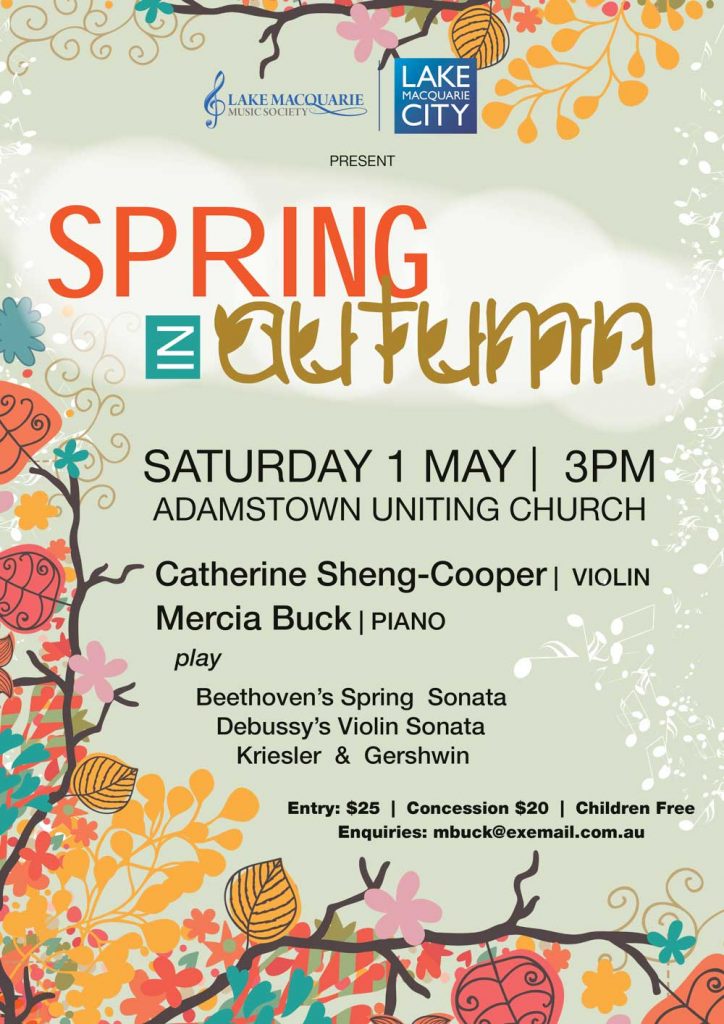 LMMS presents a recital of great works for violin and piano presented by Violinist Catherine Sheng – Cooper and Mercia Buck.
Catherine Sheng – Cooper was born in Taiwan and started her studies at the age of 5. She is a graduate of the University of Newcastle gaining a Master of Music degree. Her teacher was Elizabeth Holowell respected violinist & pedagogue. Catherine is the concert master of The Lake Macquarie Philharmonic Orchestra and The Opera Hunter Orchestra. She plays with The Pacific Palm Court Orchestra directed by Rod Barnes. She has a very large teaching practice in Charlestown and with her husband Dave Cooper comprise a duo TWO PLAY STRINGS.
Mercia Buck is a graduate of Sydney Conservatorium, has a Master's Degree from The University of New South Wales, & an Arts Degree from The Open University in the UK. She studied in Vienna & London. She has had a lifetime of performance, teaching, lecturing and arts administration, founding The Lake Macquarie Music Society and Opera Hunter. In 2011 she was awarded an OAM.
Program: Beethoven's Spring Sonata, Debussy's Violin Sonata, Kreisler's Prelude & Allegro and some favourite Gershwin.
Beethoven dedicated his Violin & Piano Sonata opus 24, later called The Spring, to Count Moritz von Fries, an Austrian banker & genuine lover of the arts who had a vast library of over 2,000 books and a valuable art collection including paintings by Raphael & Rembrandt.
Von Fries hosted many musical performances at his Palais Fries in Vienna, supporting Haydn, Beethoven & Schubert. Haydn's Creation was premiered there.
Debussy's violin Sonata was his final major work, premiered on 5th May 1917 played by violinist Gaston Poulet with Debussy at the piano. It was a time of intense sadness because of the First World War and Debussy was suffering from his final illness. It is quite short, but intensely personal & expressive. There is at times reference to what seems to be the grotesque and macabre, other times capricious, even a sense of Pierrot and the theatrical .