Lake Macquarie Music Society Presents our first Concert of 2021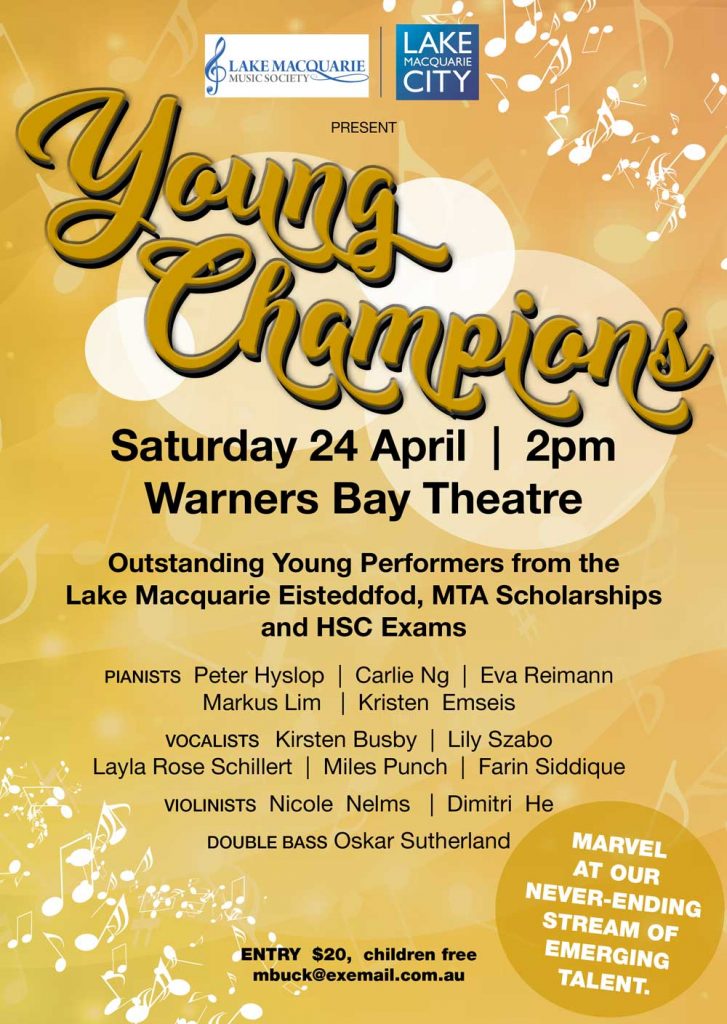 Young Champions – 2pm Saturday 24 April 2021 at Warners Bay Theatre. John Street, Warners Bay.
Entry: $20 | Children Free | Enquiries: Mercia Buck mbuck@exemail.com.au
LMMS is delighted to present a concert of fine young musicians. Each year we find a large pool of talent emerging from the excellent studios of the Hunter, Sydney's music studios and schools. They are winners from the 2019 Lake Macquarie Eisteddfod, The 2020 MTA Scholarships, & 2020 HSC High Achievers, our future in the music industry and we treasure them greatly.
Pianists: Kristen Emseis, Peter Hyslop, Markus Lim, Carlie Ng, Eva Reimann.
Vocalists: Kirsten Busby, Miles Punch, Layla Rose Schillert, Farin Siddique, Lily Szabo.
Violinists: Dimitri He, Nicole Nelmes.
Bassist: Oskar Sutherland.
Nicole Nelms began violin studies at age 6 with Amanda Gibson and is approaching her final Suzuki examinations. She also plays flute, guitar and piano and is a singer. Her music has taken her to Japan, The UK and through much of Australia. Music is her main passion in life. She will play Bartok's Rumanian Dances.
Markus Lim is in year 9 at Merewether High School and been learning piano since the age of 9 with Helen Smith. He was a high achiever in the Lake Macquarie Eisteddfod & he aims to teach piano one day and perhaps get into medical school. He also plays chess and tennis. His favourite composer is Chopin and he will play Chopin's Fantaisie Imptomptu.
Oskar Sutherland learns the double bass from Heather Price. He is a year 12 student at The Hunter School of Performing Arts & is also completing his Diploma in Music Industry through the Newcastle Cathedral College of Music. Oskar is a member of the Peter Seymour Orchestra as a part of Sydney Youth Orchestra.
Farin Siddique studies singing with Heather Price. She completed her HSC at Merewether High School in 2020. She received a successful nomination for the Reprise 2021 Concert and an encore nomination for her HSC music performance. Farin is studying Biomedical Science at Newcastle University this year and plans to further develop skills in singing.
LAKE MACQUARIE MUSIC SOCIETY